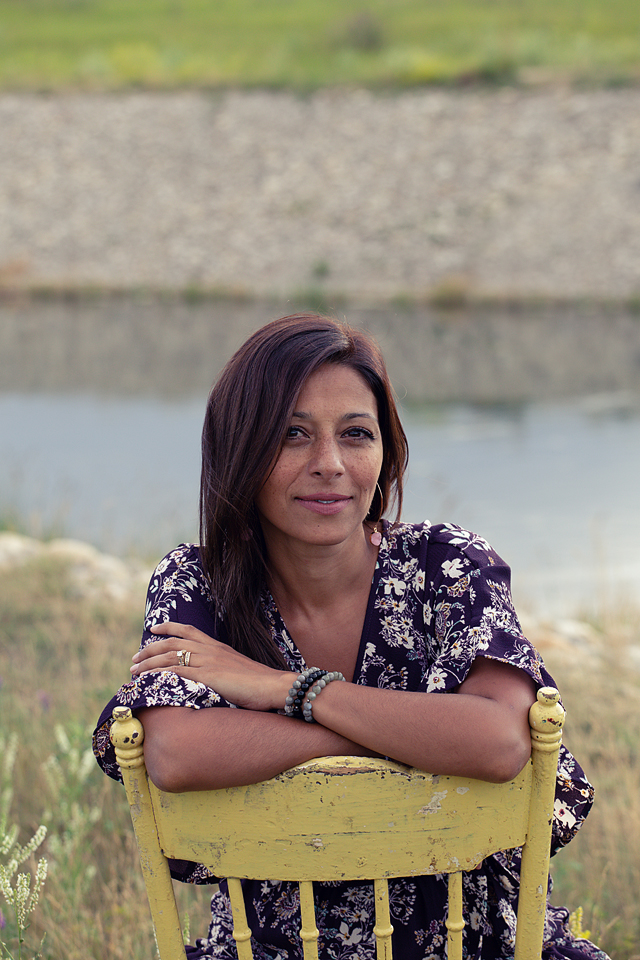 What our clients have said …

I firmly believe people come into our lives for a reason and I am so grateful Karina came into my life. I went to see Karina for a psychic/reiki session and she was incredibly helpful by providing me with a lot of guidance and clarity into my life. Karina has so much compassion and a genuine interest in healing and helping people. She is so full of love and light that she instantly makes you feel at ease when you meet her.
I also took the level 1 & 2 reiki course with Karina, and I would highly recommend taking this course with her. Karina is a gifted teacher and truly passionate about what she does. Not only does she have the ability to make everyone understand what she is teaching but she helps everyone believe in themselves and recognize their calling.
Taking her course and going to the psychic/reiki session has given me new meaning and purpose to my life!
Thank you for all that you have done for me Karina!
Jen T

Paulette
December 16, 2015
My name is Paulette. I have been working with Karina these past few months and so appreciate the help in reacquainting with my spiritual core. It so easily gets lost in the rushing about of life. I come quite a distance to see Karina and consequentially don't get to see her as often as I would like. With her input I am also finding other connections to fill the gaps, as books and websites. It has become a well-rounded learning curve all over again. I always look forward to a time with Karina, as I leave her presence feeling lighter and unburdened. Thank you Karina
Paulette

Lydia
Lydia
January 18, 2016
Karina was recommend by another special lady. I went to Karina to help me to connect with my loved ones and my most remarkable angels, guardians and spirits and mother earth who are always in our daily lives and who are guided by God. I needed to connect for guidance and understanding as I have been going through some terrible life experiences. With Karina's gift she and the heavens have helped me tremendously. She has such an amazing gifted wonderful soul, I am truly blessed to have her in my life. Her ability to communicate with our protectors is such a miracle. Through our sessions, Karina told things to me that only I knew-and how the angels, guardians spoke to Karina to speak to me, that is a true gift from the heavens. Karina is such a miracle. I am so very grateful for all that she has done for me.
Thank you my friend. May the heavens above bless and guide you in all your work, your life and your family.
-Lydia

Andrea Legge
August 1, 2016
I recently took my reiki level 1 and 2 with Karina. I was very impressed with her classes, she really knows what she is talking about and is very good at making sure everyone fully understands and is engaged in the class. I would highly recommend that if you are wanting to learn about reiki to see her. She is amazing at what she does. I took reiki 1 and 2 at Mount Royal a couple months before taking her class and I left with so many questions. When I went to Karina's class I left feeling so confident. I also had a reading with Karina and she was able to tell me things that only my family would know. She is such a kind and talented women with so many gifts to share. If you want to have a amazing life changing experience I encourage you to see Karina. She makes you feel so comfortable and she truly cares about each person she is helping. I can't say enough good things about her and what she does. The world would be a better place with more people like her.
Andrea Legge

Gale Gillespie
Gale Gillespie
August 1, 2016
Almost a year ago my daughter had an intimate evening group session where I first met Karina. Not knowing what to expect, I went in with an open mind and eager to see the evening unfold. It was amazing to be part of an evening filled with incredible messages for all in attendance. Karina impacted each person with such compassion and grace, it was incredible to be part of such an amazing evening. I was so intrigued I attended another group session two months later with my husband. Karina's connection with spirit was life changing for not only my husband and I, but for every one else there.
Karina has guided us through two group sessions in our home and we have several people asking when we are doing it again. So now we can't wait to have group sessions every couple of months. By the way .... the house clearing ahead of time is fantabulous. Our home has never felt so great !!
Karina is incredibly precise, and with those who may not be as open as others, they quickly open up as they begin to understand the validation of spirit clearly present.
Thank you Karina, for all you have done for us.
Gale Gillespie

John Fazekas
John Fazekas
August 9, 2016
I am one who very seldom writes testimonials but just had to, I met Karina picking up my wife from a group reading. The first impression one gets when meeting someone tells it all. She is very welcoming and positive person to be around. I attended a Reiki session shortly afterwards, the group reading was powerful with messages of guidance that I use daily! The messages on each session are always what I needed, she has an incredible gift. To get the best experience from a session one should go in with an open mind, follow the advice received. Be accepting of whatever messages that are received. Karina truly has an incredible gift.

Katie S.
Katie S.
November 3, 2016
I recently had the chance to take my level 1/2 reiki course with Karina. I honestly wish I had met her years ago. She is the sweetest person you will ever meet and her energy is so calming! I wish the course was longer then 2 days as I didn't want it to end! It was such an amazing experience and it has been life changing for me! If you have been thinking of having reiki, a reading or taking your reiki course, you NEED to go see Karina! I promise you won't be disappointed as she has an amazing gift!! She is someone I see becoming a good friend and I am so thankful she came into my life and has shown me so much!

Briana Dixon
Briana Dixon
November 17, 2016
I had the immense pleasure of recently meeting Karina and receiving my Reiki level 1 and 2 from her. She is an amazing human, mother, friend and teacher. Meeting her has changed my life and I am so much happier for it. She is a great healer and listener. She is funny and real and genuine. She is approachable and so so gifted! I hope to see her often in the future, for more teaching and hopefully readings too!
Thank you for everything!

Kristy Gagne
Kristy Gagne
August 7, 2017
I had the absolute honour in receiving my Level 1&2 reiki certification from Karina. From the first written contact, to the training, and since, Karina has been a blessing to my life. She helped me realise that being a healer is my calling, and guided me very lovingly and professionally. Karina is a blessing to this world. Her inner beauty and amazing abilities are just a couple wonderful things she possesses. The positive shift in my life since taking my training has been inexplicable. If you have the chance to cross her path, she will leave an imprint to last a lifetime, as she did to me. Thank you Karina, for being a part of my evolution.
Kristy Gagne

Laura Bartley
December 16, 2015
I have always wanted to try Reiki but have always found an excuse not to follow through. By divine intervention, I was put in the path of Karina and could not be happier that I was. I met her at a group reading which was so eye opening and inspirational. From there, I saw her for my first Reiki session and a card reading as well. The experience was so powerful and I knew I'd be back. Not only would I be back but I would be learning Reiki from her. I have now finished my levels 1 and 2 Reiki certification from Karina and feel so enlightened and unbelievably happy. Karina's genuine interest in healing someone and sensitivity to each individual personality was something I had never experienced before. I can't wait to see her for further sessions and hopefully further teachings 😊.
Thanks for everything, Karina. I feel so amazing and it's all because of you <3

Ashley Porter
Ashley Porter
June 10, 2018
I met Karina a few years ago and she really changed my life. Karina was beyond welcoming and made me feel so comfortable. I first met her for a home reading when I was feeling lost and confused. Karina was also able to tell me about areas in my life which I was struggling and helped me to recognize where I needed to change. Since then I was able to find myself again and believe in higher power. I don't go a day without thanking my angels for having the pleasure of meeting Karina and placing her in my path. I have now completed my level 1 & 2 certification with Karina and feel so enlightened. Karina is an amazing teacher and so genuine with her healing. I would highly recommend Karina to anyone who is looking for some positivity in their life and wanting to see the light again. Karina inspires me to be the best that I can be with her never ending love and passion for Reiki. I am truly grateful.
-Ashley Porter

I spent some time with Karina after losing my wife. She was extremely helpful in providing a positive bridge for me to connect and check in. It was a great experience to be able to feel that connection and to let my wife know thru Karina that I was doing ok and to find out that she was doing ok as well. I could tell by her reactions and enthusiasm that she was genuinely very happy to assist me and my wife in connecting, answering a few questions and to re-affirm that life does march forth. I know that a strong beautiful angel is watching over me and those around me. If you find yourself looking for answers and wanting to connect with a loved one you have lost then don't hesitate to contact Karina. You will not be disappointed!!

Karina is a true gift from the angels. Her soul is here to assist others on their healing journey. She has many gifts and talents. A healer a medium and a teacher.
Reiki is the foundation of her practice and can assist you on your journey of healing. Perhaps you have lost someone very dear to your heart. I can promise you the peace and healing you receive from the connection she has to our angels is AMAZING!! I was able to finally let go and take a step forward in my life after my first visit with Karina. Since, have attended her Reiki classes and mediumship development circles. The growth your soul receives just from knowing this beautiful soul is exactly why you will not regret stepping into something new and witnessing the transformation your life will take.
Love you my friend!!!
Many blessings of lots of new clients this year.

I met Karina a few years ago at a group medium reading. I was nervous, and I was skeptical of what would happen that evening. When I was first introduced to her, I was taken aback. I had never met a more welcoming, more peaceful, more beautiful soul. Since meeting her, I've had the privilege of working with her and learning from her. She is a tremendous Reiki Master; one that is patient, enlightening and generous. She is a remarkable healer, one that literally exudes light! In her presence you will undoubtedly feel safe secure and comforted from all that she is. I am forever grateful for all that aligned so that I could meet her that evening.

Lynne Couves
February 7, 2019
About being a healer
Sometimes we just know we need to do something different in our lives, but aren't sure of much else except that strong feeling for change. Karina was introduced into my life through a friend. It was at a time when I needed some healing. I wanted change but was feeling bit lost. In my session with Karina, her intuitive guidance and reiki healing provided me with clear steps forward. She was kind, yet straightforward, in communicating to me the messages I needed to hear. Her accuracy on my current situation was right on point. She was able to see parts of my life that needed addressing, and gave me guidance on how to move forward based on the messages she was getting. Truthfully, this was my first experience of this kind (I've never seen any kind of intuitive or reiki healer before). I had a picture in my head of how it would be - maybe awkward, scary?, maybe just weird...it was none of these. I was so comfortable with Karina, it was almost like I was getting guidance from an old friend. Today, the advice she gave me almost 2 years ago is actually coming true (which, trust me, at the time I couldn't fathom even being possible). Thank you, Karina, for giving me hope and healing, but most of all sharing your life purpose to make mine better!
About being a teacher
There's so much I could say about Karina's teaching style while I was learning Level 1/2 Reiki. What most of it comes down to is Karina's approachable, easy-to-understand format. The structure was laid-back, yet effective in understanding the background of this work, along with Karina's personal experience using it. The opportunity to work hands-on with Reiki and Karina right beside me, was the most valuable aspect of my learning. I didn't know very much about Reiki before taking this class. I had a goal to learn this modality so I could help myself, family and friends with healing. Needless to say, I graduated from this class confident enough in my skills that I can see how I will use Reiki in my daily life for those I love and for me, too. Karina has instilled her passion and skill into me, while allowing me to find my own way with this healing technique.

Russell and Nicole White
May 17, 2019
There isn't enough words we can express in gratitude to Mrs Karina for her magical ways with worldly energies. Your gifts are real and genuine.
There has been so much positive movement in our home.
I just wanted to thank you from the bottom of our heart ?
Your gifts are so precious and have help in more ways than I can express.
What a blessing you are.
Looking forward to our next encounter with you guiding us to our next messages from our lost loved ones. That are never really that far from us.
Much Love Russell and Nicole White

Tracy Tailor
May 17, 2019
I first heard of Karina through a few different friends. Her reputation definitely proceeded her from what I heard and I felt the need to attend one of her group readings at a friend's home. Little did I know that that moment of meeting her would be such a whirl wind and turn my life around 360 degrees. I was at a point of just coming out of one of the lowest points in my life and even through counselling, I still didn't feel like it was working 100%. Karina's messages were true and accurate to what I needed to hear to start making better changes in my life. I have never felt so connected to spirit, and myself, than through the guidance I've received from Karina and I know I'm well on my way to being my best self. I will always see her as a mentor and someone with a true desire to help heal others through her work.

Nabila Esmail
March 6, 2014
I had the opportunity to meet and get a reading with Karina recently and I had a great experience. Not only did I get great advice but Karina's warm nature made the reading even better for me. I would highly recommend calling divine messages and booking an appointment because it will literally change your whole perspective on everything that is happening in your life.

Kaila Gillespie
Kaila Gillespie
November 21, 2015
I met Karina over a year ago, and have nothing but amazing things to say about her. She is so welcoming and comfortable to be around. Karina has helped me to see the light in life again. She has told me many things about my past and present that I had blocked out, and with her help I am able to recognize and move forward with positive energy and light in my life. I have had medium readings/angel card readings and Reiki done by Karina, and what a life changing experience. I am forever grateful that I have met her, and I can't wait for my next session.

Vanessa Cripps
November 21, 2015
I was recommended to go to Karina by a friend and I'm so grateful that I did, as she has truly helped change my life for the better! Karina, along with the angels and Spirt are teaching me, helping me and healing me so I can be the best possible me and I can lead a happy, amazing and healthy life. I love that I leave each Reiki and angel card reading session with newfound hope for the future and a better understanding of myself! I have to Karina to thank for that due to her amazing gifts and knowledge and I would highly recommend her!

Lori Baher
October 2, 2015
Karina is a beautiful person. I came to Karina with hopes of getting some answers on health, and also to hear from those that passed. After each and every Reiki/Psychic session, I had renewed energy as well as lifted spirits. Her guidance and talent has truly gotten me through a bump in the road that we all call life! The emotions that you feel, the advice that she gives and the information that you take away from your experience is like no other. Make an appointment to see her! She will change your life for the better!

lil Wilson
October 2, 2015
Karina has been absolutely amazing and so precise every time I have had a reading... She's so down to earth and everyone always feel so comfortable with her around. Her knowledge and gift is truly wonderful and she has helped me and many of my friends with guidance on our lives and hearing from loved ones that have passed on. I highly recommend karina and give her 5 stars..

Dr. Kelly Murphy
September 23, 2015
I recently completed my Level 1 and Level 2 Reiki certification with Karina. I have a PhD in Linguistics and a Master's in Education and so, I'd say I've had a lot of formal instruction and I know teaching principles and foundations and that being said, Karina is an amazing teacher. She is very thorough and her method of instruction is such that her explanations and direction is so clear and easy to follow. She adapts and explains things differently to each student in order to reach that specific person in a way that they need. Which means she can identify the needs of different learners and adjust. This takes a lot of skill as a teacher. Not only is she passionate about Reiki, about the subject, about the thing she is teaching, but she is also very kind and patient with each person she instructs. I can't wait to take my level 3 and 4 with her. She is an amazing teacher.

Bri Haines
September 23, 2015
I met Karina in a pretty unique way. We were on the same flight, and by the end of the flight we had talked for three hours and fourty-five minutes straight! She quickly taught me that nothing is coincidence! I truly believe I was meant to meet her. I have been doing intuitive Reiki sessions, and many angel card readings and I have never been happier. She is teaching me things I never even knew about myself! With the help of herself, angels and spirit I am becoming the woman I want to be, and could not be more grateful for that flight from Toronto. She has told me things about my past that nobody knew--painful things that I had pushed down and buried within myself. With the help of Karina, I am healing these pains and letting love and light come into my life. She has completely changed my outlook, my attitude and my life, I am forever thankful that she was brought to me. Very excited for my future sessions to come..

I have been seeing Karina for over a year now, she has been able to restore a sense of self worth in me that 18 years of counselling hasn't. Her ability to go beyond the surface damage and truly heal my heart and soul has not only saved my life, but for the first time I am living my life without fear or worry.

Mitch Popilchak
June 22, 2014
Karina did in one session what all my doctors could not in months. Her ability to heal energetically using Reiki is incredible and her psychic abilities enabled her to see/know exactly what was wrong with my physical body that the specialists have been unable to determine. If only I had met Karina a year ago!! She is a truly gifted healer and I would not hesitate to recommend her to anyone. I am so grateful!

Kelly Murphy Parks
June 3, 2014
I've had readings and reiki with Karina and- wow. She helped me so much- to realize the goals I want to pursue and to help guide me where my path is- to help me know that there is love and support from above and I'm not alone in this... It has been an eye opener... And confirms my belief that we all have help around us, we just have to ask. Reiki was amazing with Karina- something I recommend to everyone.

Jennifer Rominow
June 2, 2014
Karina - My experience with coming to you has made me feel very comfortable talking about the issues I have been wanting to heal, and every time I come to see you I release my pain and heal. I love that I get confirmations through you that I am protected by angels and you are there helping me through being guided for my inner healing. I am always excited to come for a session because after I feel there has been so much weight lifted off inside of me and that's how I know this is working for me.

Cheri Rominow
May 22, 2014
I have experienced a Reiki session with Karina and it was amazing. I felt energy moving and shifting in my body while she was working. She had incredible insight to what was going on. Karina has a beautiful heart and is very easy to feel comforted and safe with, I felt at ease sharing with her my personal pain I was ready to heal. I would recommend Karina to everyone, and I have! If you are looking for an honest experience, she is a very gifted woman. Thank you Karina for sharing your love.

Karina has literally changed my life. I've gone from skeptic to full time angel loving believer. I feel so at peace with my life knowing I am protected by my guides. If I had never had a reading from Karina, I would still be a stressed out skeptic. She has even contacted my deceased father-in-law which I also thought was impossible BUT THERE IS NO WAY SHE COULD KNOW ANY OF THE THINGS SHE TOLD ME!!!! This girl has an amazing gift! Take advantage of all her great abilities and let her heal you!! You will not regret it!!!

I highly recommend the services of Karina Ruttan. She has a gift of helping others and has greatly helped me achieve personal healing and confidence. Through her services I have also received guidance in my life decisions through prayer and the advice of the angels. It has been a blessing finding Karina and the services she offers.

Leticia Martin Dunn
April 24, 2014
I have been to Karina for Reiki and Angel Card readings and have found comfort and peace with both. Through the Angel Cards, I was given guidance that helped me cope with the loss of my loved one as well as opened my eyes to the issues in the present. Through Reiki, Karina was able to clear a lot of negative energy that had been building and causing me anxiety for years. I am a believer in her and her abilities! She has helped me and I know will continue to help me in the years to come.

Chantelle Phalena Popesco
March 10, 2014
I have had Karina read cards for me a number of times. Each time the angels and the cards answer anything I'm struggling with ! They have always been right on . I love Karina and believe she is one of the most gifted women I know !